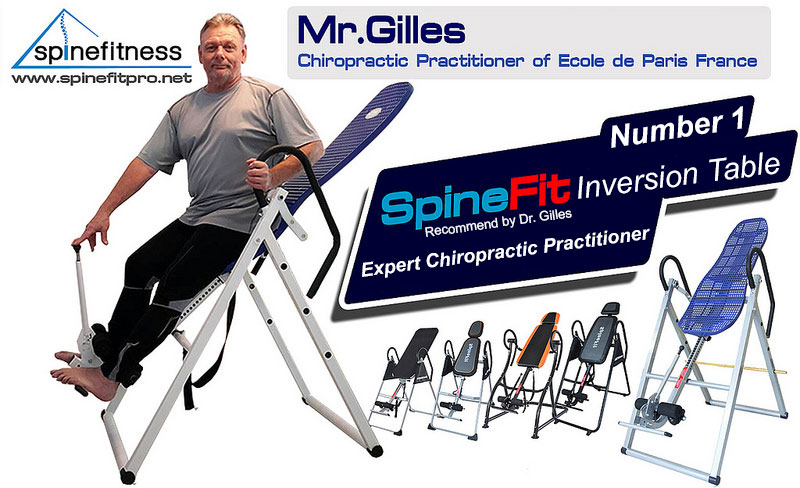 ---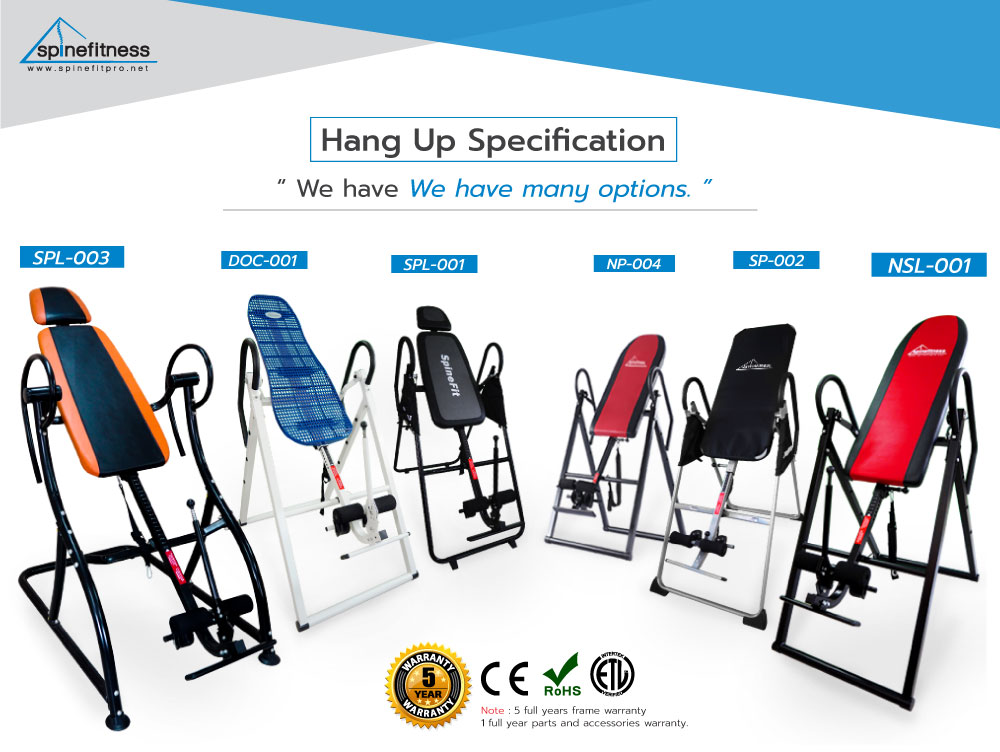 ---
Benefits of Inversion Table
1. Treat Herniated Disc, neck and back pain.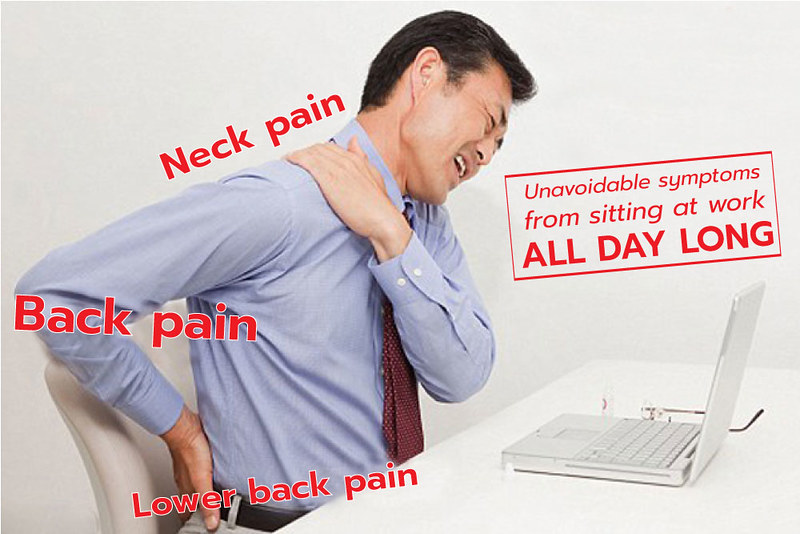 2. Yoga practice and rebalance your body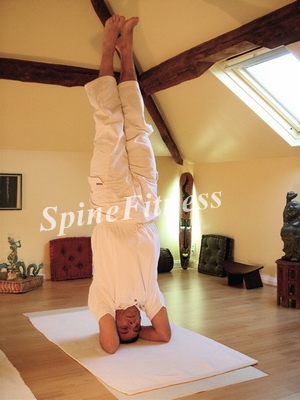 3. Inversion exercises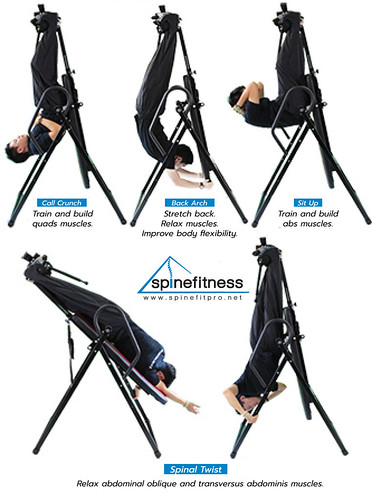 1. Our customers who use Hang Up SpineFit for back pain and Herniated Disc treatment.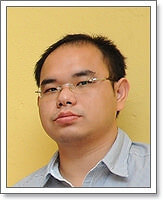 Mr. Chayut
"At first, I felt sharp pain on my back and had chronic ache. Thought it was nothing because everyone at work also has it from sitting and working all day long. It was normal. Sometimes, I got massage or took muscle relaxant and it relieved a bit. Several months later then it were still there, and then it got worse, so I decided to go see a doctor. The doctor told me I had Herniated Disc. Other than back pain, obvious symptoms are right big toe tip is weaker than the left side and slight numbness. *Result may vary on individual person.*
---
Ms. Jarutsri
" I have back and lower back pain. At first, I thought it was because I was getting old. I just bend down a lot during housework so it shouldn't be a problem. Then later I had sole of feet numbness and pain still remained. My neighbor advised physical therapy because I had pain and numbness which might be Herniated Disc. When I go see a doctor, he said I actually had Herniated Disc and physical therapy is needed for at least 3 months. I had warm compression on the back and waist before back stretching by machine for 5 minutes each time, every visit at physical clinic. " *Result may vary on individual person.*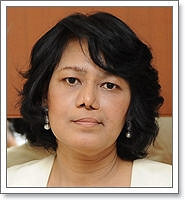 ---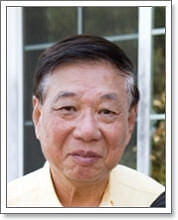 Mr. Songwuth
"I am in late 60 years old. I have back pain and walking abnormalities, especially when I step on stairs it hurt much more. Back then I always do sailing exercise at Pattaya but not that much exercise nowadays, therefore I got back and lower back pain. Internet search for back pain cure led me to plenty of advice to try Inversion table to stretch my back for lower back pain treatment. I want to try a real one so I contacted Mr. Phatchara for trials. I found it is good for back stretching actually and bought one Hang Up SpineFit model SPL-001 because it is easy to use. I don't need to bend down and lock ankles." *Result may vary on individual person.*
Mr. John Olivares, Financial Department, Embassy of the United States, Wireless Rd., Bangkok
"My therapist recommends using Inversion Table to treat Herniated Disc, but you have to make sure that the lock is position over your ankles after you lock them. No pressure down directly on ankles. Inversion Table model SP-002, SP-004 and SPL series have ankles locking systems I need."
*Result may vary on individual person.*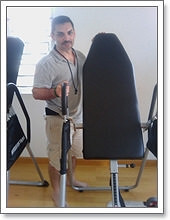 Using Inversion table Hang Up help stretch and adjust spinal disc.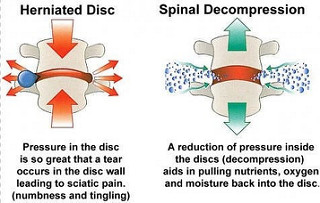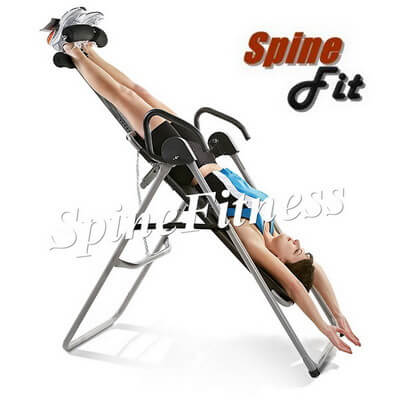 Using Inversion Table has the same mechanism as stretching machine or traction table which are tools for spinal decompression physical therapy. Spinal stretching can help spinal disc take and circulate oxygen and blood for self-conditioning. Sitting for a long period is one of the main causes that stress spinal disc. Bearing compression for a long period causes Herniated Disc diseases which lead to pain or numbness. Using Inversion Table for Herniated Disc treatment shows good result rapidly that pain and numbness on limbs recovers better. Many Hang Up customers give good feedback such as feel lighter, back and neck ease up and, for those who already have pain, relieve pain and numbness just after first time use. People who have serious issue or numbness that can't even walk finally can return to their daily routine within a month.
2. Our customers who use Hang Up SpineFit for Yoga practice.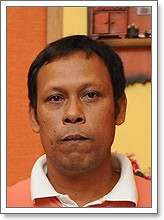 Mr. Korn
"I have Hypotension, less blood pressure on my head. I faint a lot. My girlfriend does Yoga for several years to the point she can do headstand pose. Initially, she asks me to join her but that pose is too difficult. I need more practice before I can do that. Then one of my friends recommend me Hang Up table. He said it is easy and safe so I searched the internet and found Mr. Phatchara's SpineFitness. I contacted him for trials and find that SpineFit long handles ensure you don't get dizzy by moderately turn upside down. Sufficient blood pressure in the head makes me feels well with back stretching as a bonus also" *Result may vary on individual person.*
---
Ms. Ning
"Every morning drive to work, I listen to a radio on Ms. Nudee and Pupae channel on MET 107 frequency. One day Ms. Nudee talk about Inversion Table that she use it every day. It helps rebalance your body, stretch your back and circulate blood to upper part of your body just like Yoga but easier. I sit all day long at work and found that this table help ease back pain.""*Result may vary on individual person.*
Using Inversion Table Hang Up for Yoga practice.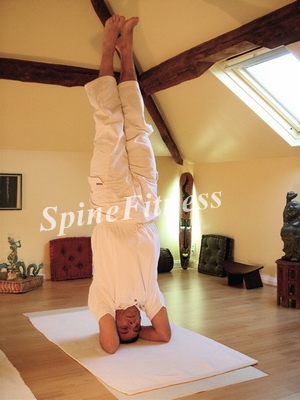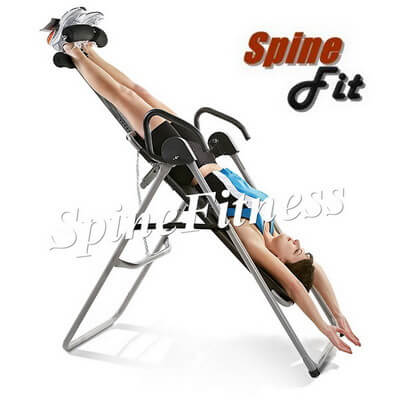 Using Inversion Table for Yoga practice help rebalance many aspects of your body. Benefits from inverted exercise such as lung expansion for more oxygen, circulated blood on upper body part stimulate body systems to rebalance, muscle and joint stretch for relaxation and, more importantly, an exercise. Many people also use Yoga to treat their back, neck and lower back pain.
3. Our customers who use Hang Up SpineFit as exercise machine.
Mr. Kong
"I love an exercise. There are many exercise machines in my house. Initially, I want to do inverted sit-ups because this workout doesn't put weight onto joint like standing. I found Hang Up in sport corner at department store but it was very expensive, almost 20,000 baht, so I didn't buy it. Then I found SpineFit which is cheaper on the internet so I give it a shot. Mr. Phatchara's demonstration shows it is possible to do many workouts, even chin up or leg up." *Result may vary on individual person.*
Using Inversion Table for Exercises
Inversion exercise is workout that condition joints of which holding body weight and exercise equipment weight such as dumbbell. Other than strengthen your muscle, inversion exercise is also a great lung exercise because it can expand larger while you are upside down. Being upside down can stretch your body better than pulling bar because you can do it longer.
---
You can walk in for try our product at showroom Mon-Sat 10 am. – 6 pm.
* Please make appointment in advance Tel : 086-890-8957
---
Inversion Table Hang Up Specification.
Inversion Table of Spinefitness has various models to offer.
**All models give the same treatment result, but differ in convenience.**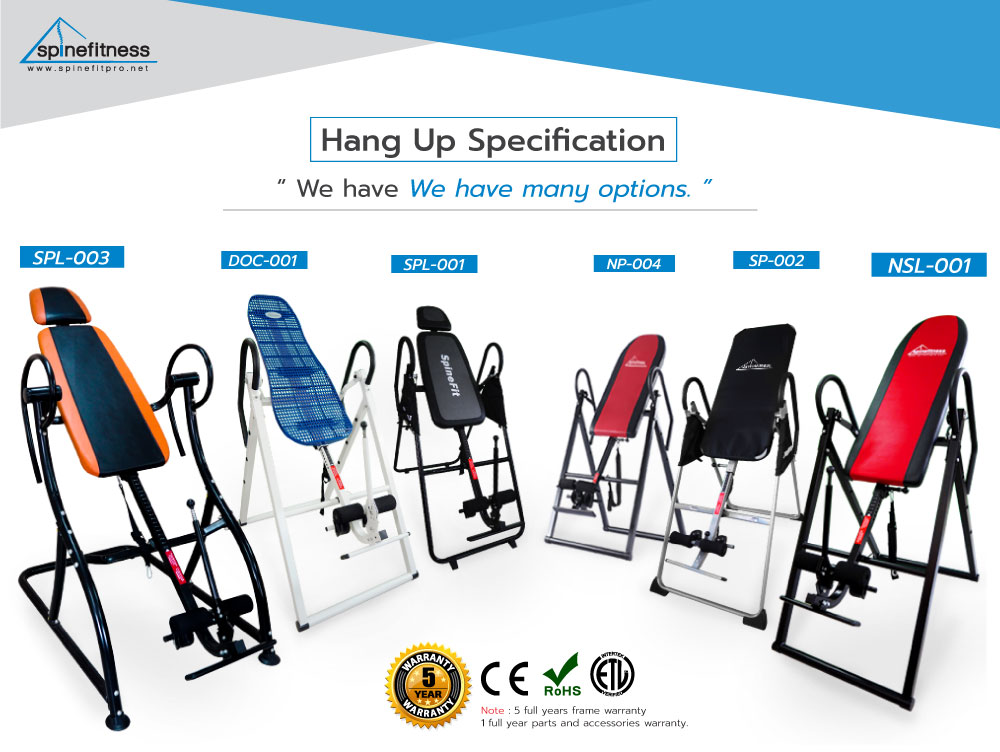 Frame is made of steel weight 22 kg. Weight capacity is 136-150 kg.
The table can be adjusted to accommodates user height 147 – 196 cm.
Foldable, require small space by leaning against wall (except model SPL-003).
Bed material is made from nylon and can be removed for washing, or leather model which is durable and easy to clean.
Usable as sit up machine to strengthen abdomen muscle.
Frame steel has been processed in powder coating for durability. Service life is more than 5 years (indoor).
Inversion Table of Spinefitness has special handles model (long handles) for convenient to use. No dizziness.
Treat Herniated Disc. Relieve chronic back pain and Herniated Disc, lower back pain and Scoliosis.
Physical adjustment, humpback, Lordosis and Kyphosis.
Increase spinal disc, muscle, joint and bones flexibility. Improve blood circulation and lung expansion.
Hang up

Whole 5 years guaranteed frame.

Parts and accessories are 1 year guarantee.
People with following symptoms or conditions should avoid using vertical Inversion Table.
(horizontal Inversion Table is applicable)
High blood pressure, pregnancy, glaucoma or conjunctivitis, heart disease, bone fracture, take large doses of aspirin, use anticoagulants drugs, hemorrhagic stroke, inguinal hernia.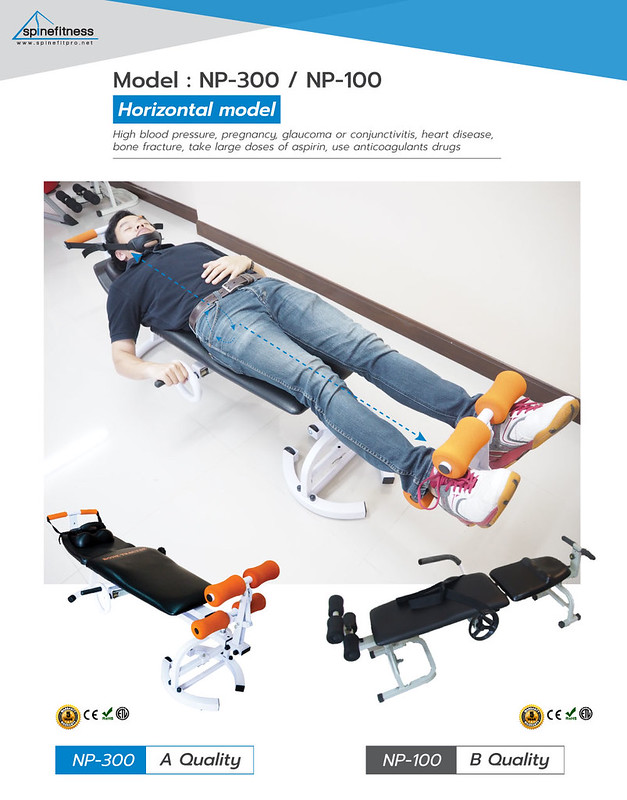 Click Here !!
to see horizontal Inversion Table specification
NP-300 Price 9,400 baht
Special promotion. Now only 8,460 baht.
---
Functions and Use of Each Inversion Table Reviews.
Hang Ups Inversion Table DOC-001 Reviews.
(Increased inertia force for no dizziness, ratchet ankles locking system, foldable, cheaper)
คลิ๊กที่นี่ !!
Order Hang Up DOC-001 Price 9,200 baht
Special promotion. Now only 8,280 baht.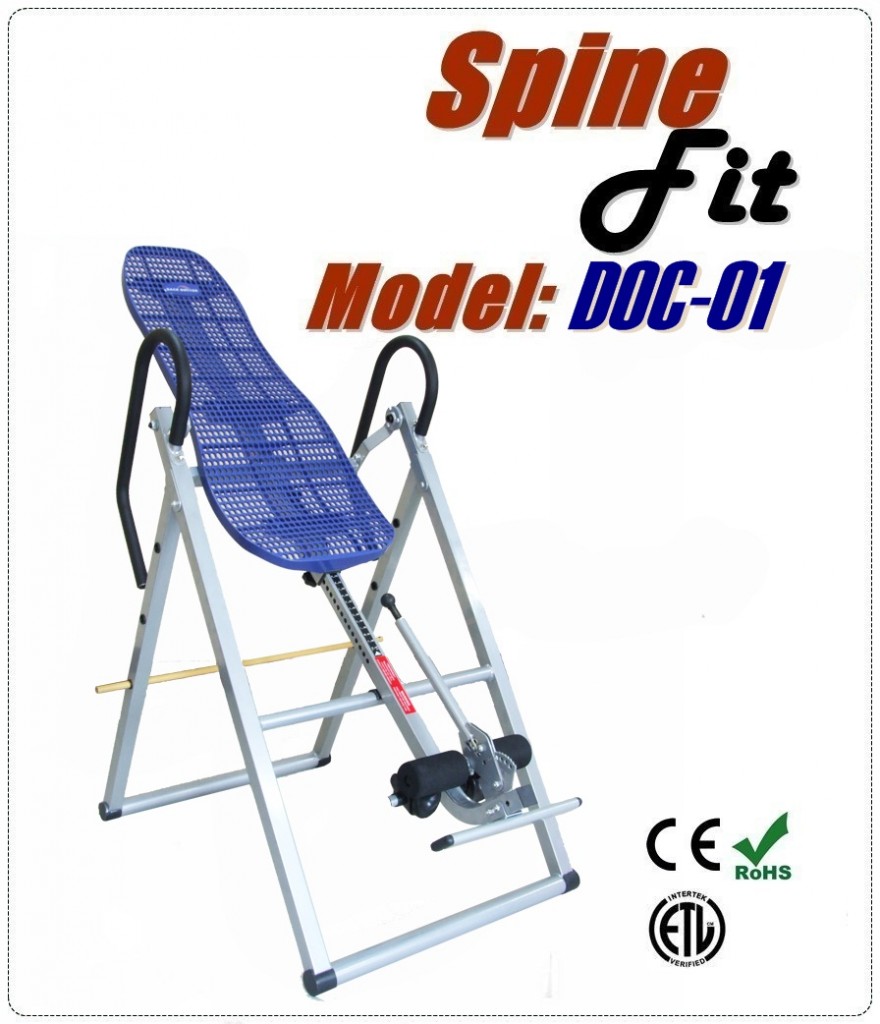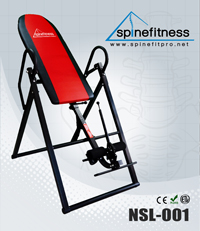 Hang Ups Inversion Table NSL-001 Reviews
(Ratchet ankles locking system, wide leather bed, foldable, strong frame)
New arrival. The new latest design Hang Up Inversion Table product from Spinefitness with modern shape. Upgraded from the old model SPL-001 with wider and longer bed. More weight capacity. Redesign to improve strength and easier to fold.
Hang Ups Inversion Table SPL-003 Reviews
(Ratchet ankles locking system, wide leather bed, big frame)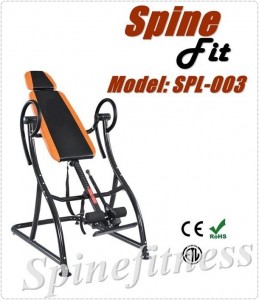 Hang Ups Inversion Table NP-004 Reviews
(Leather bed, cheaper, foldable)
SpineFit NP-004 has a shape of ankles locking system like SpineFit NP-002 but has different back cushion and bed structure. Outstanding feature of this Inversion Table model is a bed with soft foam inside. The frame is upgraded for strength and folding property as same as Inversion Table model DOC-001 product.
Hang Ups Inversion Table SP-002 Reviews
(Nylon bed, cheaper, foldable)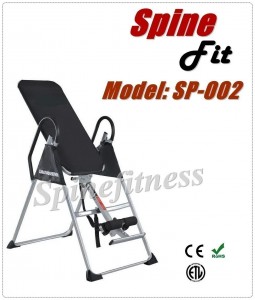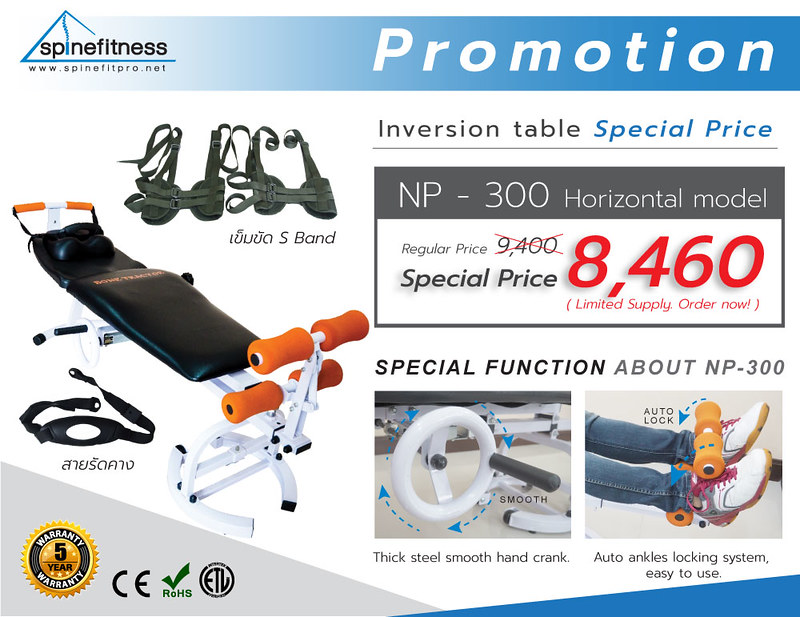 Horizonta Inversion Table NP-300 + Tether Strap Reviews
(Suit people with some underlying disease, require small space, easy fold, high traction efficiency)
Inversion Table NP-300 comes with S-Band tether strap that make traction efficiency similar to physical therapy by clinic and hospital. The difference is that NP-300 inverse user by itself to stretch, allowing back and neck stretch as much as you want without assist.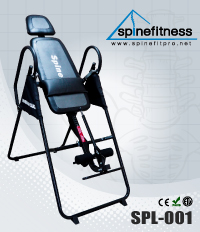 Hang Ups Inversion Table SPL-001 Reviews
Click Here !!
Order Hang Up SP-001 Price 7,600 baht
Special promotion. Now only 6,840 baht.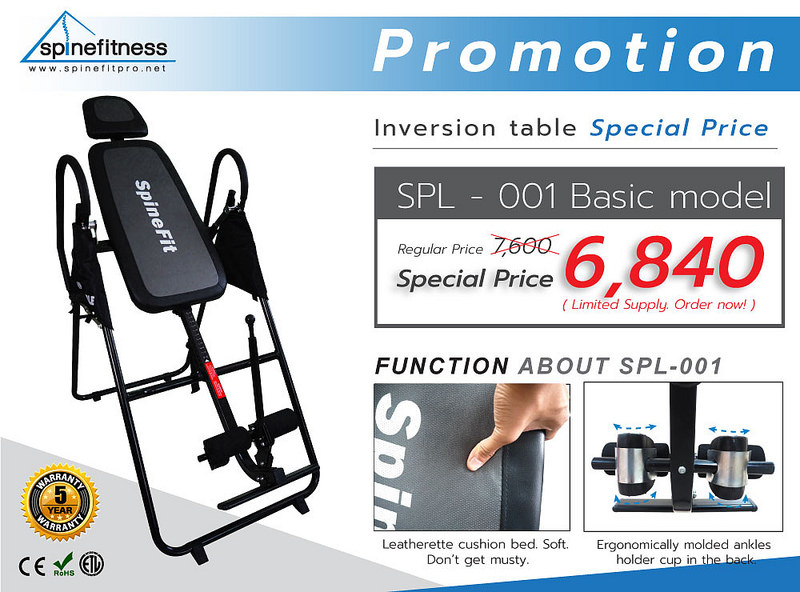 Inversion Table model: SPL-001 is the most popular model due to its full functions, cheap price and foldable.
*Use Warning and Caution*
This equipment is not suitable for people with high blood pressure symptoms
This equipment is not suitable for people with heart-related disease or had heart surgery (Ballooning and Bypass)
This equipment is not suitable for people with any cataract in the eye
Should not play just after a meal as it may cause nausea